Featured Performer – Ginger Doss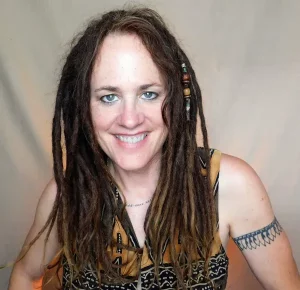 Ginger Doss is a performing songwriter, music producer, spiritual practitioner, and speaker. Her dynamic and compelling songwriting explores multiple genres, including rock, alternative groove, tribal, and folk, and is inspired from a passionate and diverse study of spirituality. She tours extensively throughout the US and Canada igniting audiences with high energy performances and music that radiates with all the colors and callings of the divine. She won a Posi Music Award for her song Thankful and the Audience Appreciation Award in the Women in the Arts Talent Competition at National Women's Music Fest ~ one of the country's largest and longest running women's music fests. She is currently a part of the music team at the Fayetteville AR Center for Spiritual Living where you can find her every Sunday morning when she is not on the road. She has self-produced all four of her independently released albums and is currently beginning work on a 5th. A concept album merging sacred practice and music.
HOLD ON TIGHT ~ The Chakra Rock of Ginger Doss will rock your body. wake your soul, and set your heart on fire!!